KUNBUS is a German firm specialized in industrial communication, industrial automation and Industry 4.0. The KUNBUS GmbH was founded in 2008 with the aim of providing innovative and economical products to the steadily growing market of industrial networks (fieldbus, industrial Ethernet). Our natural habitat is the environment of industrial communication in the automation, process, manufacturing, and drive technology. We offer development services, standardized fieldbus (e.g. Profibus, CANopen, DeviceNet) and industrial Ethernet (Profinet, Ethernet/IP, SERCOS, EtherCAT) products, manufacture and logistics - all from a single source. We are an owner-managed company looking for long-term success. All of our employees are engaged in timely delivery of high-value state-of-the-art products and services to our customers. We see ourselves as responsible partners of our customers.



Revolution Pi - Open Source IPC based on Raspberry PI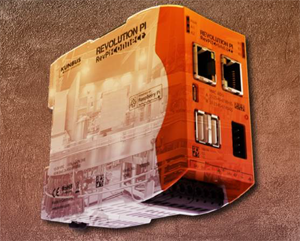 Like most interesting product in its portfolio, KUNBUS especially stands out Revolution Pi.
Revolution Pi is an open, modular and inexpensive industrial PC based on the well-known Raspberry Pi. Housed in a slim DIN-rail housing, the three available base modules can be seamlessly expanded by a variety of suitable I/O modules and fieldbus gateways. The 24V powered modules are connected via an overhead connector in seconds and can be easily configured via a graphical configuration tool.   


More about Revolution PI family

For more information about KUNBUS products, we suggest visiting of our site!